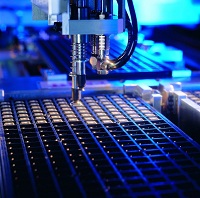 www.mcuisp.com, Found in 2008.08.08, At the same time of BeiJing Olympics, We focus on the field of In System Programming(ISP) of microcontroller. Our mission is provide tools, technology, service, to meet user's requirements when they use In System Programming.
In System Programming, include In Circuit Programming and In Application Programming(Also known as In Field Programming ), become a better choice compared to Traditional "in socket program", due to two tendency of MCU: 1, Flash become the primary technology for Embed Program Memory, make firmware update easy. 2, the package of chip is smaller and smaller(the PIN pitch 0.8mm-->0.65mm-->0.5mm, It make hard to handle the chip).
We provide EP968, a world's first, versatile handy programmer, Specially designed for ISP. List of Supported Chips. User Manual, PC SoftWare
1.Full standalone work, with AA battery. Can supply 1.65V~5.5V(500mA max) to target board
2.Powerful Security Architecture, with easy to use, to protect User's intellectual property.
We also provide a serials of Programming Adapter, called ChiBi-Ships。With those Adapters, EP968 can instead convention GANG-Programmer, with extremely Flexibility—You can get your 1-to-N port GANG-Programmer just you want.
We also provide free software for serial port ISP with Various chips, currently include STM32/LPC2xxx. A free serial port debug tool is also provided.